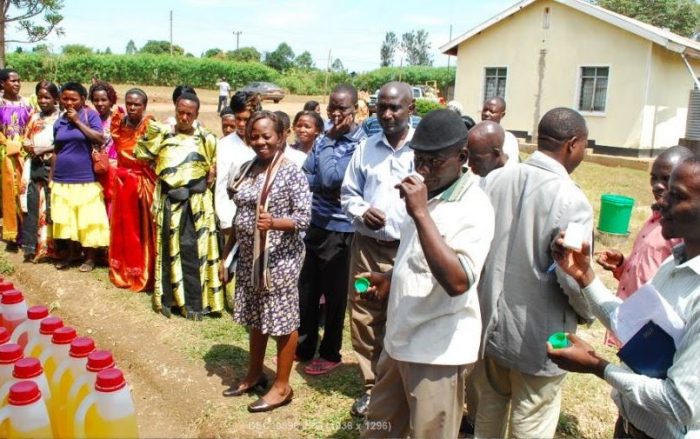 June 24, 2016 11:37 am
RECO's Village Group of Industries is the fastest growing rural value addition oriented social enterprise in Uganda currently. Having started operations in mid-September 2015, we have generally processed, packaged, and marketed sparkling quality nutritious products. Thanks for our partners including Uganda Industrial Research Institute, Centenary Bank, Hon Kasamba Mathias, Gen Salim Saleh and others.
We believe our success depends on our ability to connect with consumers by providing them with a wide variety of options to meet their desires, needs and lifestyles. Our success further depends on the ability of entire RECO team to execute effectively, every day.
The beverage products include Mango Juice, Orange juice, Lemon Juice, Passion Juice, Tomato Sauce, Pineapple fresh Juice, Munanansi Juice (boiled Pineapple extract with Ginger), cocktail and concentrates. These are marketed both on wholesale and retail. The Munanansi which stays pure for six months has wowed the local people who have always been disappointed by power black outs which would make their favorite drink unavailable at the moments of most need.
All the fruits are sourced locally directly or indirectly from farmers. With this opportunity, many are self-initiatively planting fruit trees and multiple suppliers have confessed that they will not be cutting their fruit trees. This has a positive effect on our environment and also is a significant measure for climate change mitigation.
The Bakery Products include Doughnuts and Cakes. A specially made cheap delicious Doughnut is packaged and strategically distributed to more than 15 schools using the teachers' network. Adding more income to teachers and addressing the hunger challenge to pupils and students.
The cosmetic products include Vaseline, Lotion, Shampoo, and Liquid Soap. Our unbeatable approach of integrating traditional accumulated knowledge on skin solutions has made us manufacture the best Vaseline on the market.
We look forward to accumulate, grow and effectively use our- strong commitment, resources, talent, innovations, and disruptive distribution system- to become more competitive and to accelerate growth in a manner that we stay resilient.
Local Excitement
Traditionally local farmers would produce the same crop at the same time and take to the same market, yielding low prices-if a bought anyway!With this innovative solution of value addition with in the farmers' vicinity, the traditional belief that farming in Uganda is for poor people is quickly being replaced by millionaire farmers. Since we started operations, we had not made sales exceeding a million in a single day. Village Group of Industries made a record daily income from sales exceeding one million shillings on 27th September, 2015. The appetite for value added products locally and the potential penetration into the East Africa region markets is working in our favor.  In the wake of climate change and rapidly increasing population, there is no doubt that value addition is the sure bet to the food security and transformation of rural communities.
Growth
The incredible potential of this social enterprise is going to be accelerated by the acquisition of the following machines: Juice Extracting Machine; Juice Pasteurizing Machine; Soap Making Machine; Oven; and Dough Mixer.
We also look forward to purchasing land and establishing our model rural industry hub.
Operations
The Bakery department operates daily and most times the team work beyond midnight. The other departments operate basing on demand and productivity effectiveness.
Opportunities
As we strive through the challenges, we do believe that they offer a great opportunity for you to be a member of RECO family or to get more involved.
Yes, you can be a supplier of raw materials, be part of the technical team, be part of the products distribution network or be our investor. We create value to all RECO family members.